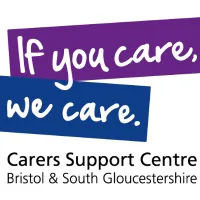 Carers Support Centre
Opportunity to help make life better for Adult Carers in South Gloucestershire.
Carers Support Centre (CSC) Bristol and South Gloucestershire provide a wide range of
information, advice, and support services for unpaid adult and young carers.
A carer is someone who provides support to family or friends who could not manage without this
help. This could be caring for a relative, partner or friend who is ill, frail, disabled or has mental
health or substance misuse problems. All the care they give is unpaid.
We have a vacancy in our South Gloucestershire Carers Support Team for a Carers Support
Officer.
Hours: 26.25 hours per week (9am -5pm Monday – Wednesday, and 9-12.45 pm Thursday)
Salary: Actual salary is £17, 010 (FTE £24, 300)
This post offers the opportunity to work flexibly – from home, our offices in Fishponds, and in the
community.
You will join a committed and friendly team who work with carers in South Gloucestershire, in a
busy and varied role that includes carrying out carers assessments, providing advice and
information, and providing some one-to one support online, by phone and face to face. You will
also facilitate carer support groups, and take part in our help, information, and advice CarersLine
rota.
How to apply:
Please apply using our application form which is available from our website
https://www.carerssupportcentre.org.uk/vacancies. You will also find there a full Job Description,
Person Specification, and details of our Staff Benefits.
If you do not have access to the internet, please call our office on 0117 9392562 or email:
recruitment@carerssupportcentre.org.uk
If you would like further information about this role, please call Neil McIntosh on 07722 283671.
Closing date for applications: Monday 29th May 2023 5pm
Interview date: Wednesday 7th June 2023 at the Vassall Centre, Fishponds
Registered Charity Number: 1063226
We are an Equal Opportunities employer and our workplace is free of barriers and fully
accessible for people with disabilities. We are committed to safeguarding children, young people
and vulnerable adults; from recruitment of staff through to supporting our team working with
families and carers in crisis