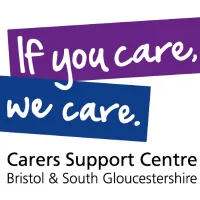 Carers Support Centre
Opportunities available to help make life better for carers
Carers Support Centre (CSC) Bristol and South Gloucestershire provides a wide range of information, advice and support services for unpaid adult and young (children) carers.
A carer is someone who provides support to family or friends who could not manage without this help. This could be caring for a relative, partner or friend who is ill, frail, disabled or has mental health or substance misuse problems. All the care they give is unpaid. Three out of five people in the UK will become carers at some time in their lives.
We have a vacancy in our small fundraising and communications team, providing admin support. This is a key role, underpinning our work.
You will be helping us raise more than £100,000 from trust fundraising annually and helping us to grow our community fundraising. This helps fund our amazing programme of activities for young carers and helps us develop new services for adults, like walk and talk and well-being support. 
Our current communications priorities include commissioning new photography, developing a new website and rebranding all our electronic and print communications.
This role will suit an experienced administrator who is up for a challenge and can juggle priorities. It includes: 
• helping research potential funders, supporting funding bids and maintaining relationships 
• promoting our giving schemes 
• researching images and liaising with printers 
• producing E-Bulletins and maintaining mailing lists 
How to apply:
If you would like to know more about this role, please call Clare Hanson-Kahn (07599 278 621) for further information.
To apply, please visit our website www.carerssupportcentre.org.uk\vacancies where you will find all the required information to apply via CV or application form, including full Job Description & Person Specification, additional evidence required (if applying by CV) and details of our Staff Benefits.
If you do not have access to the internet, please call our office on 0117 9392562 or email: recruitment@carerssupportcentre.org.uk
Closing date: 21st September 2023 @ 12 noon
Interview date: 4th October 2023
Registered Charity Number: 1063226
We are an Equal Opportunities employer and our workplace is free of barriers and fully accessible for people with disabilities. We are committed to safeguarding children, young people and vulnerable adults; from recruitment of staff through to supporting our team working with families and carers in crisis.