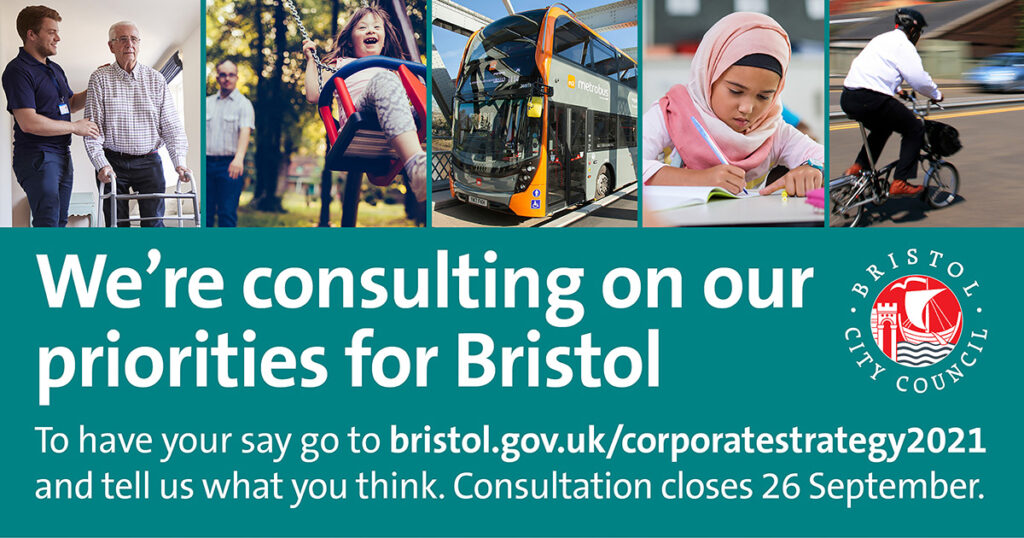 Bristol City Council is consulting local people about our proposed priorities for Bristol for the next five years, and they would love to hear from you!
As we look ahead and think about the city's needs, particularly in recovery from the COVID-19 pandemic, they have proposed these goals:
• Making Bristol a city where every child belongs and thrives
• Making sure everyone has equal opportunities
• Becoming carbon neutral and supporting the recovery of nature
• Helping people stay healthier and happier throughout their lives
• Building healthy and inclusive neighbourhoods with affordable homes
• Connecting people to people and people to jobs and opportunity
• Creating a council that empowers individuals, communities and partners to flourish

Bristol City Council's new draft plan for 2022 – 2027 sets out its priorities for children and young people, economy and skills, environment and sustainability, health care and wellbeing, homes and communities, and transport and connectivity. They want everyone to have their say and help get the priorities for the city right. You can tell the council what you think until 26 September. Find out more and take part at https://bristol.citizenspace.com/bristol-city-council/corporate-strategy-2021/.
The consultation closes on Sunday 26 September. Alternative formats of the survey can be requested in another language, Braille, audio tape, large print, easy read, BSL video or CD-ROM or plain text by emailing consultation@bristol.gov.uk or calling 0117 922 2848.