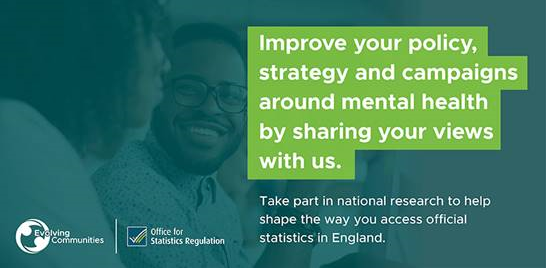 Do you use mental health statistics? Evolving Communities would like your valued opinion on how you access this information and how the statistics provided help you in your work.
The Office for Statistics Regulation (OSR) is carrying out a review of official UK statistics, and wants to find out if the statistical system is providing the right information to support professionals in their work.
Evolving Communities are hosting a regional workshop to gather views:
Engine Shed, Bristol – Tuesday 14 January, 10.30am-12.30pm
You will be asked questions such as:
How, when and why do you use mental health statistics?
Does the current provision of mental health statistics meet your needs?
Is there anything you would like to see change? What questions do you want to answer but cannot owing to a lack of available statistical information?
You can find out how to book onto the workshop, other ways to take part, and more information about the project here: https://evolvingcommunities.co.uk/project/osr/